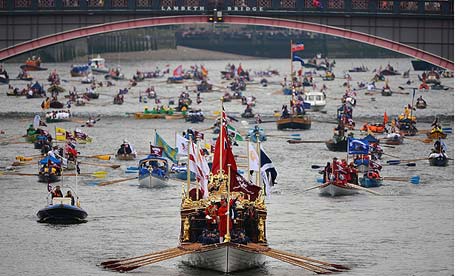 I'm a Royalist at heart, and today was the day of the Queen's Diamond Jubilee pageant down the River Thames - 1000 boats of all shapes and sizes. I love the idea of having a pageant as part of the celebrations as it's such an historic way of royalty marking significant events. Although the weather just about held early on when the rowing boats came through, it soon deteriorated, the heavens opened, and by the time the larger boats were coming past, everyone was drenched - a typical British summer ;) Indeed, it was a very British event throughout, and so no-one seemed too perturbed by the turn in the weather and they all carried on regardless.
The highlight for me was the finale when the barge carrying the Royal Philharmonic Orchestra arrived at Tower Bridge - they performed traditional, Last Night of the Proms songs like Land of Hope & Glory, Rule Britannia and the national anthem in front of the Queen's barge and it was amazing. The BBC clip is here,
http://www.bbc.co.uk/news/uk-18316899
where you can also see that the poor choir on top of the barge got ABSOLUTELY drenched - it was the height of British eccentricity and stoicism that they carried on.
Anyway, I was meant to get up early this morning to go for my run, when the weather was calm and dry, but I didn't...I laid in bed for an extra hour and a half and by the time I dragged myself out, it was too late to go for a run. Inevitably, by the time we'd had lunch and watched the pageant, the rain pouring over London was also pouring over Billericay - I knew I needed to run but the weather was diabolical and I wasn't convinced about heading out into the storm. However, I was definitely inspired by that choir on the barge...if they could stand in the cold, the wind and the rain for 3 hours and then sing so fantastically, I could certainly get out and get a few miles in!
I ended up with 10 miles on the Garmin for the third day of Juneathon, and despite the stormy weather, strangely enjoyed myself on my run - it went well :)